Dragon Professional Group 15
$852.17 exc GST
Description
Dragon Professional Group 15
Enable multiple employees to create reports, spreadsheets, presentations and other documentation more efficiently—in the office or on the road—with fast, accurate dictation and transcription. Dragon Professional Group enterprise-ready speech recognition software features powerful, easily sharable customization and integrates into current workflows to drive workplace productivity. Enable fast, accurate dictation with robust customisation features to improve documentation productivity for multiple users within an organization—whether they're in the office or on the road. This powerful solution, which provides support for Citrix® virtualized environments, and can be centrally administered with usage tracking and license management through the Nuance® Management Center, helps corporations work smarter and more efficiently for bottom-line results.
Let Dragon

work for you
Speed through documentation


Fast dictation and high recognition accuracy that continually improves as it adapts to your voice.
Think out loud to capture ideas up to 3x faster than typing


Short-cut repetitive tasks


Define simple voice commands to short-cut repetitive processes, speed up document creation, and boost your productivity.
Edit and format text much faster than using a keyboard and mouse


Boost efficiency


Add customized words for accurate recognition of the industry terms, acronyms or personal preferences you use very day.
Automatically format text to appear the way you want it to—every time
Central administration for Dragon Professional Group
Dragon Professional Group is enabled to work with Nuance Management Center. Designed for corporate deployments of Dragon Professional Group speech recognition software, Nuance Management Center provides powerful, yet easy-to-use central user administration capabilities that allow organizations to enable and manage these solutions across multiple users. Nuance Management Center helps businesses to ensure efficient use of their licenses, meet requirements for reporting accuracy, and centrally manage their Dragon Professional Group deployments for significant time and cost savings.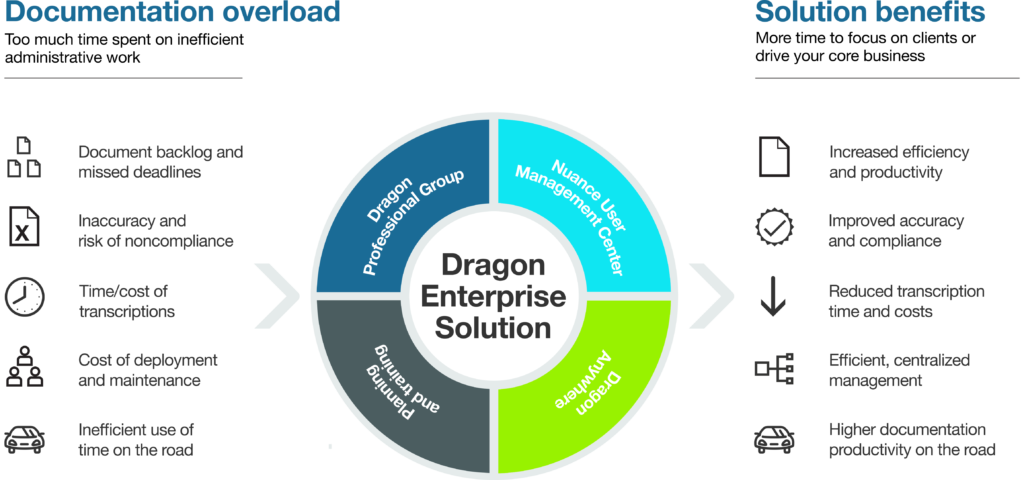 Enhanced OLP program (VLA orders)
The Open License Program (OLP) for Dragon licensed products has been enhanced:
New OLP program is easier to track and understand making it easier for customers to do business with Nuance

Tiers are based solely on unit volume (1-4, 5-25, 25-50, 50+)

Pricing available for Academic, Government, Charity and Upgrades

Purchasing is now cumulative over the customer lifetime, instead of time limit based
Lower starting point: customers can buy as little as one unit to start
Some modifications have been made to discount levels and tiers
Support for published applications in Citrix virtualized environments
Dragon Professional Group supports installation on Citrix XenApp® or Citrix XenDesktop® servers, enabling users to dictate from workstations that do not have Dragon installed. In this configuration, the Dragon application is only installed on the same Citrix server as the target application that will be used for dictation, such as Microsoft Word or a records management system. By installing Dragon on a Citrix server computer, you can have Dragon rely on the Citrix server for all processing activities. Furthermore, deploying Dragon on a Citrix XenApp or Citrix XenDesktop server provides Dragon users with Full Text Control, for supported applications running on that same Citrix server.
Nuance PowerMic support
Dragon Professional Group supports Nuance PowerMic. PowerMic is a robust, ergonomic handheld microphone featuring simplified, thumb-control operation (for dictating, editing, navigating, and reviewing documents using speech recognition), programmable buttons and integrated mouse functionality. It is ideal for professionals who are looking for new levels of dictation speed, ease-of-use and productivity.
Let your voice
empower you at work
Create, edit and format documents by voice—quickly and accurately—so you spend less time on paperwork and more time on activities that boost the bottom line.
Realize the benefits
A complete, enterprise-ready speech recognition solution that drives higher documentation productivity—quickly and cost-effectively—for bottom-line results. Improve employees' documentation throughput for better customer service, increased compliance and greater focus on core business activities.
Increase revenue
Improve customer service—without adding staff—by streamlining documentation processes.
Reduce liability risks
Inaccurate or incomplete documentation opens your company to risks. Reduce this with simple more complete documentation.
Easily deploy, measure and centrally manage
With the Nuance User Management Center, it is easy to manage large numbers of Dragon users and licenses.

Advanced commands
Quickly and easily create or import powerful commands to automate time-consuming tasks associated with document creation and management. For example, you can send an email to your sales distribution list, copy senior management and print a hard copy for your files just by saying "Send standard sales distribution email." Wow…five minutes of work done in five words.
Customisation flexibility
Customise words for the specific industry terms, acronyms, proper names, and unique terms you use every day. Easily import/export custom commands and custom word lists to speed up routine tasks and increase dictation accuracy.
Powerful / Enhanced transcription
Eliminate the need for costly transcription services or inefficient manual processes by enabling employees to dictate into a digital voice recorder for later transcription. Dragon Professional Group offers the ability to accurately transcribe another single speaker's voice from pre-recorded audio files or podcasts without training a new profile, only a 90-second audio clip of the speaker is required. Now supported .m4a, .wav, .wma, .mp3, .dss and .ds2.
Support for Windows 10
Engineered to work seamlessly with new Windows 10, this release is Windows 10 logo certification and supports Office 2016.
Optimized for touchscreens –  Dragon is optimized for popular form factors such as portable touchscreen PCs so you can experience new levels of documentation productivity on the go.  Improved touch experience on Windows 10 tablets or tablet mode.
Speed and simplify documentation tasks
Dragon eliminates barriers to productivity and creativity by letting you interact with your computer by voice. It turns your spoken thoughts into text and your voice commands into action so you don't have to worry about the mechanics of typing and spelling. Make edits and apply formatting using your voice to make easy work of document creation.
Additional information
| | |
| --- | --- |
| Hard Disk Space | 8 GB |
| Operating Systems | Windows 7, 8.1, 10 (32-bit and 64-bit), Windows Server 2008 R2; Windows Server 2012 |
| Recommended CPU | Intel dual core or equivalent AMD processor. Faster processors yield faster performance. |
| Recommended Ram | 4+ GB for Windows 7, 8.1, 10, Windows Server 2008 R2, Windows Server 2012 |
| Internet Connection/Browser | Internet Explorer 11 or higher or the current version of Chrome or Firefox for Online Help, Internet connection for product download and automatic product activation (a quick anonymous process) |
| Annual Maintenance Contract | Mandatory Annual Maintenance Contract must be purchased providing upgrades automatically when they become available. |
| Nuance User Management Console | For larger entities an additional Group Management Console is available for centralised license control, configuration, auditing and license management. |
Note: Does not support dictation into Electronic Medical Record (EMR) systems. For EMR support, please use Dragon Medical Practice Edition.